Stargate Atlantis Fan Site
Stargate Atlantis Legacy Books
Homecoming   (SGA-16)  Jo Graham & Melissa Scott
The Lost   (SGA-17)  Jo Graham & Amy Griswold
Allegiance  (SGA-18)  Melissa Scott & Amy Griswold
The Furies (SGA-19) Jo Graham
Secrets (SGA-20) Melissa Scott & Jo Graham
Inheritors (SGA-21) Melissa Scott, Jo Graham, & Amy Griswold
So book #3 of the Legacy Series finally hit stores.  You can buy the Allegiance paperback hardcopy from Fandemonium at stargatenovels.com or you can get the less expensive Kindle ebook at Amazon. It will be a while before the Allegiance paperback is at Amazon, at least new–used copies might start appearing for sale sooner.
Allegiance picks up where The Lost left off. After Homecoming and The Lost, our characters are definitely in a different situation than the were when the Stargate Atlantis television series ended.
[Click here to buy Allegiance as a Kindle ebook]
If you go on to read the description from Fandemonium, be sure to note that since the Legacy series is a continuing series that builds heavily on each book that came before, the description has some pretty big spoilers in it for the other two books. If reading spoilers doesn't bother you, then there's no reason to skip the description for what promises to be a great new addition to the Stargate Atlantis series!
Allegiance Description
The description below has spoilers for the previous 2 books in the Legacy Series so don't read it if you don't want to be spoiled for those books.
Reeling from the shocking discovery of Rodney McKay's fate, Colonel Sheppard and his team retreat to Atlantis to regroup. With Rodney not only in the hands of the Wraith, but apparently working for them, Atlantis faces a new danger – their own man, turned against them.

While Zelenka and Colonel Carter work frantically to crack the security protocols McKay embedded in Atlantis's computer system, Ronan revisits his past and finds much is changing on Sateda. Meanwhile, Queen Death prepares to make use of her most valuable prisoner; with Rodney still unaware of his true identity, the fate of Atlantis hangs in the balance…

Set after the TV series' exciting finale, STARGATE ATLANTIS: Allegiance is book three of the gripping new Legacy series.
The Stargate Atlantis Legacy Series is made up of the newest books in the Stargate Atlantis books series from Fandemonium Books.
Stargate Atlantis Legacy Books
Homecoming   (SGA-16)  Jo Graham & Melissa Scott
The Lost   (SGA-17)  Jo Graham & Amy Griswold
Allegiance  (SGA-18)  Melissa Scott & Amy Griswold
TBA - Coming Soon
TBA - Coming Not-so-Soon
TBA - Coming Later ;-)
Right now that number is at 3 books, but the intent is for a 6 book series. Although I have heard a lot of good things about this series, I certainly hope they'll go back to some stand alone books once this series has been completed. I enjoy reading about the adventures of Stargate Atlantis but I find it hard to commit to an entire 6 book series these days!
I'm sure I can dig up the rest of the Stargate Atlantis Legacy series book titles when I have time to go looking for them. I will update as soon as I can. If you know the titles or authors of these books, feel free to leave a comment.
A cool crossover novel for Stargate Atlantis and Stargate SG-1, Transitions was published October 2011 as part of the SG-1 series.
Transitions Kindle ebook [Click here to buy]
Transitions is written by the author who wrote one of my absolute favorite Stargate Atlantis books, Mirror Mirror. Sabine C. Bauer has also written a lot of other books in the Stargate books series. She has a great grasp of the characters and keeps each book lively and exciting with adventure for our favorite characters. She also pulls together complex plots in a way that makes me very happy with her books.
Transitions Description
After her mother's death, Cassie Fraiser is moving on. So she thinks. But there are dangerous forces at work and she soon finds herself caught up in a situation far beyond her control. It's a good thing Colonel Carter was keeping an eye on her.

But while Carter rallies SG-1 to Cassie's aid, events on Atlantis are going from bad to worse. Facing a deadly plague and a computer virus that's shutting down the city, it looks like Colonel Sheppard's team will provide rich pickings for the incoming Wraith hive ship.

But sometimes events galaxies apart are connected in unexpected ways—and help comes from the most surprising of places. In this action-packed story, Sabine C. Bauer brings together the heroes of Stargate SG-1 and Stargate Atlantis in the fight of their lives…
I bolded the relevant parts for SGA fans like myself. We're finding the wait between Stargate Atlantis books to be long and dry so a nice surprise like this SG-1 book with a major Stargate Atlantis storyline is a great find. If you're a fan of the SGA books, you should buy Transitions by Sabine C. Bauer and read it right away. I doubt you'll be disappointed.
If you've ever been tempted to buy the Stargate Atlantis complete series on DVD, this is definitely the time to buy.
Makes a Great Christmas or Holiday Gift!
I was surfing around Amazon today, and you know how the site shows stuff you've looked at in the past on the pages you visit? It had the complete DVD set for Stargate Atlantis there and the price shocked me. I have no idea how long this price will last, but it is under $87 at Amazon right now (price can change at any time!). This price makes the DVD set a very attractive Christmas gift for science fiction television fans and Stargate fans alike. Click here for the current price and details and how to buy.
Without any Stargate shows on television, or in the works, fans are going to have to turn to DVD or streaming services to get their Stargate fix. Netflix offers the entire collection of Stargate Atlantis episodes for online streaming, but you do miss out on the special features and extended episodes you get with the DVD sets or the blu-ray set. 
So, check it out now if you're interested. The price is amazingly low and I have no idea how long this discounted price will last. Click the link or the DVD box cover image to go to the DVD set at Amazon.
There are some very interesting audio books available for Stargate Atlantis. These particular audiobooks are read by the various actors from the show, making them much more interesting than just a book that's being read by some random narrator. In fact, these are actually called dramatic readings.
Big Finish put out these audio programs. They're each about an hour long (similar to an episode length) and because the main character is read by the actor, they add to the overall universe of the series.
Click any title to buy the audio book for your collection! Enjoy.
"I am a scientist, not a soldier. I always wanted to make things, and discover things, and find out important stuff about the universe and our place in it. I never wanted to end things. I especially never wanted to end the lives of people."
An off-world mission goes awry for Dr. Radek Zelenka when he finds himself trapped in a decrepit Genii power station. Cut off from the rest of his team and from communication with Atlantis, his only hope for survival is opening a dialogue with the enemy. But will he be able to do that before a catastrophic nuclear meltdown?
"Illness I can handle — the bloody volcanoes, that's what I'm worried about!"
Dr. Carson Beckett and the Atlantis team embark on a mercy mission to save a community from an imminent volcanic eruption. Once infamous for harboring a terrible disease, the small community has been ostracized, though they swear they are now free from sickness. But as the evacuation begins, it seems that the people may have been hiding a horrifying truth…
Dr. Radek Zelenka reluctantly finds himself aboard the Starship Apollo as part of Colonel Carter's drive to survey the area of space surrounding Atlantis' new planet. It's a sensible idea, he understands that—but it's also very dull. Dull that is, until the ship discovers an entirely new life form…
When Sheppard's team encounters a culture with phase shift technology that keeps their entire population invisible – and immaterial to the outside world, it looks like Atlantis might have found the perfect protection from the Wraith. Eager to make a trade for the technology, Dr. Elizabeth Weir embarks on a diplomatic mission to negotiate with the people of Lannavulin, but once there, it becomes apparent that not everyone is happy with the planet's status quo.
I've painted this city from every angle — inside, outside, day, night. I suppose you could say I'm trying to tell its story
Plagued by blackouts, painting strange pictures in his sleep, Major Evan Lorne begins to fear that he's losing his mind. Has the stress of life in the Pegasus galaxy pushed him over the edge? Then, when Atlantis itself begins to behave strangely, the Major wonders if something else entirely is going on. But with his behavior becoming increasingly erratic, who can he trust? And can the soldier convince his colleagues that the answer lies in his paintings?
Dr. Carson Beckett finds himself in an uncomfortable situation when he becomes a patient in his own infirmary. After a disastrous mission, Beckett brought back to Atlantis with a broken leg—and a bad case of amnesia… but that's the least of his troubles… Cared for by Dr. Gilbert, Beckett watches as a strange affliction overcomes his friends, one by one members of the Atlantis crew are brought in unconscious and unresponsive yet with no sign of trauma….
I hadn't realized there were quite so many t-shirts available at Allposters featuring Stargate Atlantis! This collection of t-shirts is really nice and I was happy to see all the major characters represented on various sizes and styles, including Women's, Men's, and Youth. You can buy these Stargate Atlantis t-shirts at Allposters.
Just scroll down to get a view of the different shirts available, but click this link to see the t-shirts on the Allposters website.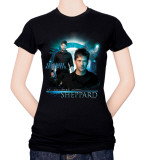 Women's: Stargate Atlantis – John Sheppard
Originally published May 2007, Entanglement by Martha Wells is part of the Stargate Atlantis books series from Fandemonium Books.
Entanglement is the 6th book of the tie-in novels for the Stargate Atlantis TV series. Science fiction action adventure, Stargate Atlantis is about a team of explorers who go on an expedition across the galaxy through the stargate to find the ancient lost city of Atlantis. There, they discover a city hidden beneath the depths of an ocean and an enemy that has completely overrun the Pegasus galaxy and who are eager to find a new feeding ground…
Entanglement brings together the team of Colonel John Sheppard, Dr. Rodney McKay, Ronon Dex, and Teyla Immogen in a new adventure in Pegasus.
If you like to expand the TV universes you enjoy watching, reading the Stargate Atlantis books is a good way to do that. Buy Entanglement by Martha Wells and give it a read. The books in the Stargate Atlantis series (especially Martha Wells) have proven to be good series tie-in stories as well as enjoyable science fiction books.
You can buy the book in paperback or for the Kindle. For the time being, Stargate Atlantis: Entanglement is discounted if you buy the Kindle ebook, so you can save some money by buying the Kindle edition. I love the book covers for these books, so I've actually bought the paperback editions where available for my collection instead of the ebooks.
Fans of the series should enjoy the Stargate Atlantis novels.
Stargate Atlantis: Entanglement
Author: Martha Wells
Mass Market Paperback Edition, 290 pages, ISBN 1-905586-03-5, Fandemonium Books
Martha Wells also wrote Reliquary, one of the Stargate Atlantis novels that I highly recommend.
Click here for Stargate Atlantis: Entanglement in paperback or to read reviews
Stargate Atlantis: Entanglement is also a Kindle ebook
About Stargate Atlantis: Entanglement
Part of the Stargate Atlantis Series of Books
Leap of faith…
When Dr. Rodney McKay unlocks an Ancient mystery on a distant moon, he uncovers a terrifying threat to the Pegasus galaxy.
Colonel John Sheppard realizes they must disable the device before the Wraith can find it so he and his team navigate the treacherous ruins of an Ancient outpost. Only their attempts to destroy the technology become complicated by a stranger's arrival—a stranger who cannot be trusted, a stranger who needs the Ancient device to return home. Cut off from backup, under attack from the Wraith, and with the future of the universe hanging in the balance, Sheppard and his team must put aside their doubts and step into the unknown.
However, when your mortal enemy is your only ally, betrayal is just a heartbeat away…
Buy Stargate Atlantis: Entanglement paperback
Buy Stargate Atlantis: Entanglement Kindle ebook
When you read Stargate Atlantis: Entanglement don't forget to let me know what you thought of it in the comments section.
SGA-01 Rising
SGA-02 Reliquary
SGA-03 The Chosen
SGA-04 Halcyon
SGA-05 Exogenesis
SGA-06 Entanglement
SGA-07 Casualties of War
SGA-08 Blood Ties
SGA-09 Mirror, Mirror
SGA-10 Nightfall
SGA-11 Angelus
SGA-12 Dead End
SGA-13 Hunt and Run
SGA-14 Death Game
SGA-15 Brimstone
SGA-16 Homecoming
SGA-17 The Lost
SGA-18 Allegiance
You can find book reviews and descriptions for many of these books on this site. Also, I plan to keep this page updated with any new book releases in the Stargate Atlantis books series, so consider bookmarking this page for future reference.
Stargate Atlantis Books Reviewed
These are the Stargate Atlantis books I've read and reviewed, and I have more of the SGA novels on my to-be-read list. If fact, I'm in the middle of Death Game but RL issues trumped reading time and I had to set the book aside. I hope to pick it up soon and finish the story so I can add another review here. Keep in mind these Stargate Atlantis book reviews are my own personal opinions about the books but I'm a huge SGA fan.
Stargate Atlantis Book Summaries
I will be adding more of the Stargate Atlantis book descriptions in the very near future and will update this list as needed.
Fans of Stargate Atlantis and Blu-ray set are likely to want to buy the Complete Series Blu-ray set for their collection. With over 50 hours of special features and episode commentary, along with all the goodness that comes with Blu-ray, there are plenty of great reasons to buy this fabulous looking 20 disc set.
Stargate Atlantis continues the Stargate story, giving us new characters and new adventures to enjoy as Stargate SG-1 wound down. Each season brought new excitement to the series while continuing with story arcs begun in the early seasons of Atlantis and even touching on events from Stargate SG-1 story arcs.
By the end of its run, Stargate Atlantis had converted many SG-1 fans into Atlantis fans and gained a strong following of viewers who loved Stargate Atlantis not because it was part of the Stargate franchise but because it was a great science fiction show in its own right.
From the beginning, the Stargate Atlantis series gave fans a strong collection of episodes that cry out to be watched again and again.
There are plenty of excellent reasons why you should buy the SGA complete series on Blu-ray disc. As part of one of the best science fiction franchises ever written and filmed, Stargate Atlantis is a series of exciting, fun, entertaining, and thoughtful episodes, and it deserves a special place in television history.
Stargate Atlantis Blu-ray Box Set
Why buy this set? There are many reasons this Blu-ray set is a good purchase for fans: plenty of special features (see below for the list), commentaries for most episodes, guest appearances from SG-1 characters, plenty of action-adventure, extended episodes, compelling story telling, interesting characters you can care deeply about, and heroes of the kind that make great stories.
The special features and extras included in the Stargate Atlantis Blu-ray set range from highlights, blooper reels, story and character analysis, behind the scenes features, and informational videos about things such as the FX and costume departments. The Mission Directives are interesting to watch, as are the Profiles and Making of videos. My favorite of the special features from the Stargate Atlantis Complete Series Blu-ray set was the Stargate Atlantis: Stunts included on disc 3 of season 2, probably because I've always been fascinated by the men and women who are adventurous enough to put their bodies on the line to make a good episode great!
As a fan of the series, the Blu-ray discs make the show look better than ever, although some of the special features are  in TV format instead of widescreen and many of them are available on the regular DVD season box sets. Still there's enough about this set to make it special and the perfect purchase or gift for any fan of Stargate Atlantis and Blu-ray. See below for the complete list of special features and commentaries included in the Blu-ray set.
I love the compact sleekness of the packaging. Twenty discs in a single box, housed in 3 cases which fit inside. Each season is made up of 4 discs. Disc case 1 and 2 each contain 8 discs, seasons 1-2 and seasons 3-4 respectively, while the final case holds the 4 discs of season 5.
Buy Stargate Atlantis Complete Series Blu-ray Set
Blu-Ray Special Features and Episode Commentary
Season One
Disc 1 Extras
Stargate Atlantis Set Tour with Martin Wood and Peter DeLuise
Audio Commentaries
Rising, Parts 1 & 2
Hide and Seek
Thirty-Eight Minutes 
Disc 2 Extras
Wraithal Discrimination: It's Not Easy Being Green
Diary of Rainbow Sun Francks
Audio Commentaries
Childhood's End
The Storm
Disc 3 Extras
Mission Directive: Sanctuary
Mission Directive: Before I Sleep
Mission Directive: The Storm/The Eye
Audio Commentaries
The Eye
The Defiant One
Hot Zone
Sanctuary
Disc 4 Extras
Mission Directive: The Seige
A Look Back on Season 1 with Martin Gero
Audio Commentaries
The Brotherhood
The Gift
The Siege
The Siege (Part 2)
Season Two
Disc 1 Extras
Mission Directive: The Siege (Part 3)
Mission Directive: The Intruder
Audio Commentaries
The Siege (Part 3)
The Intruder
Runner
Duet
Condemned
Disc 2 Extras
Mission Directive: Instinct
Introduction to a Character: Ronon Dex
Audio Commentaries
Trinity
Instinct
Conversion
Aurora
The Lost Boys
Disc 3 Extras
Profile On: David Hewlett
Stargate Atlantis: Stunts
Audio Commentaries
The Hive
Epiphany
Critical Mass
Grace Under Pressure
The Tower
Disc 4 Extras
Road to a Dream with Martin Gero
Profile On: Paul McGillion
Audio Commentaries
The Long Goodbye
Coup D'Etat
Michael
Inferno
Allies
Season Three
Disc 1 Extras
Mission Directive: Sateda
Mission Directive: Progeny
Inside the Stargate Atlantis Visual FX Department
Profile On: Rachel Luttrell
Audio Commentaries
No Man's Land
Misbegotten
Irresistible
Sateda
Progeny
Disc 2 Extras
Mission Directive: Phantoms
General O'Neill Goes to Atlantis
Audio Commentaries
Common Ground
McKay & Mrs. Miller
Phantoms
The Return (Part 1)
Disc 3 Extras
Mission Directive: The Game
Masters of the Alien
Audio Commentaries
The Return (Part 2)
Echoes
Irresponsible
Tao of Rodney
The Game
Disc 4 Extras
Mission Directive: First Strike
A Look Back on Season 3 with Martin Gero
Audio Commentaries
The Ark
Sunday
Submersion
Vengeance
First Strike
Season Four
Disc 1 Extras
Mission Directive: Doppelganger
A New Leader: Amanda Tapping Joins Atlantis
Audio Commentaries
Adrift
Lifeline
Reunion
Doppelganger
Travelers
Disc 2 Extras
Stargate Atlantis Bloopers
Mission Directive: This Mortal Coil
Audio Commentaries
Tabula Rasa
Missing
The Seer
Miller's Crossing
This Mortal Coil
Disc 3 Extras
Mission Directive: Quarantine
Mission Directive: Outcast
Audio Commentaries
Be All My Sins Remember'd
Spoils of War
Quarantine
Harmony
Outcast
Disc 4 Extras
The Making of Trio
A Look Back at Season 4
Deleted Scenes
Audio Commentaries
Trio
The Kindred (Parts 1 & 2)
The Last Man
Season Five
Disc 1 Extras
Mission Directive: Search and Rescue
Showdown! Ronon v. Tyre
Bringing the Seed to Life
Audio Commentaries
Search and Rescue
The Seed
Broken Ties
The Daedalus Variations
Disc 2 Extras
Mission Directive: Whispers
Mission Directive: Tracker
Tricks of the Trade: Submerging the Stargate
Joe Flanigan: A Conversation with the Colonel
Audio Commentaries
Whispers
The Queen
Tracker
First Contact
Disc 3 Extras
Building a Humanoid with James Robbins and Martin Gero
Dr. Jackson Goes to Atlantis
The Life and Death of Michael Kenmore
Inside the Stargate Costume Department
Deleted Scenes
Audio Commentaries
The Lost Tribe
Outsiders
Inquisition
The Prodigal
Remnants
Disc 4 Extras
Mission Directive: Brain Storm
Stargate Atlantis Goes to Vegas
Deleted Scenes
Audio Commentaries
Brain Storm
Vegas
Enemy at the Gate
Buy Stargate Atlantis Complete Series Blu-ray Set
For a complete episode list for the entire series, see the SGA episode list.
I received a copy of the Stargate Atlantis Blu-ray complete series box set the other day and I am so looking forward to watching my favorite episodes and the new special features on Blu-ray.
I will be posting a review for the Blu-ray set as soon as I've watched, so keep an eye on the site for that if you're interested in buying a copy for yourself.
And if you don't see the need to wait, go ahead and order the Stargate Atlantis complete series Blu-ray set now. I can already say any enthusiastic SGA fan is going to love it. I couldn't stop smiling just from having that pretty box in my hands.